The politics of succession; CDA and PvdA editions
In the series "I did not see this coming," two major leadership developments yesterday and today, one each for CDA and PvdA. Besides, one death in the family.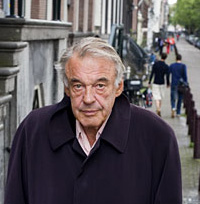 Yesterday Hans van Mierlo, founder of D66 and party leader 1967-1973 and 1986-1998, died. In part, D66 and its idea of constitutional renewal was created thanks to him. He led the party to a glorious entry in parliament back in 1967, when it won seven seats, which was revolutionary for those times. (Nowadays it's peanuts, of course).
In 1994 he changed the face of Dutch politics again, after D66's huge election victory (24 seats), after which it was necessary for a coalition and enforced the Purple PvdA+VVD+D66 coalition without the CDA. Thus it had dethroned the natural ruler of the country after eighty years.
It was said from him: "Hans was not really a politician. Just like a dolphin is not really a fish." He was better known for his broad, sweeping vistas and philosophical approach than for his knowledge of details. As far as I'm concerned we need more such politicians.
He will be missed.
CDA — Eurlings leaves politics
Yesterday Traffic and Waterstate minister Eurlings announced he is leaving politics. This comes as a complete surprise; especially since Eurlings has been a professional politician for sixteen years, is only 36 today, and was regularly tipped as Balkenende's successor for the CDA party leadership.
His stated reason was that he wanted to spend more time with his girlfriend and family. Obviously, that leads to the question whether he jumped or was pushed. Right now I'm not sure; there are arguments for both.
The push theory
One way of looking at it is that he was pushed out because he's a threat to ... well, someone. Either Balkenende or Verhagen, pick your choice.
Early this week the CDA leadership confirmed Balkenende as party leader, probably on the theory that a leadership change now would hurt the CDA more than continuing with a leader that has definitely reached his Best-Before date. All in all this is the least bad choice.
There has been criticism of Balkenende, though the internal CDA criticism typically stays hidden within the party. Still, CU leader Rouvoet attacked him for his statement that he only wanted to become prime minister, not minister under another PM, nor parliamentary leader of the CDA (presumably in opposition). When, after his confirmation, Balkenende was asked about this statement, he did not want to repeat it and replied with typical CDA mushy-mouthedness.
So Balkenende is not the best of leaders right now, but there was no real alternative — except for Eurlings. Balkenende being a protestant, the next CDA leader must be a catholic, and within the catholic wing of the party foreign minister Verhagen was number one and Eurlings number two.
The fall of government has severely damaged Verhagen. PvdA party leader Bos has succesfully painted him as the archetypical untrustworthy, snake-like catholic politician, and a CDA under Verhagen would definitely perform worse than a CDA under Balkenende.
Which left Eurlings in the number-two spot. If you go for the push theory, he was apparently too dangerous there, because he'd form an alternative for Balkenende. Still, I assume he would have been disciplined enough to stand four-square behind his party leader ... at least until approximately 15 minutes after the elections.
Frankly, I don't see how Eurlings would be a direct threat to either party unity or Balkenende. Yes, he would succeed Balkenende, but in an orderly way, after the elections if they go bad, in a few years if the CDA performs well. But he would not threaten Balkenende directly.
Which leaves the more interesting theory that this is an internal fight within the catholic wing, where Verhagen (or somebody else who's as yet unnamed) wanted to conquer the top slot, and with it the succession to Balkenende. If you assume Eurlings was pushed, I like this theory a lot more.
Still, that would mean that Verhagen would make a come-back as the CDA's number two. That hasn't really happened so far, but such changes are never officially announced, so we'll just have to see whether Verhagen returns to the limelight in the coming weeks.
And Verhagen's return would seriously damage the party.
The jump theory
The other way of looking at it is that Eurlings took his decision voluntarily, more or less in a re-enactment of the Rats and the Sinking Ship. The CDA is doing poorly, and Eurlings doesn't want to be associated with a poor performance. He's young enough that he can afford to wait until the elections after the current one for making a glorious return to politics, and then he'd be untainted by the 2010 problems.
The fact that his number-two slot hasn't been claimed immediately speaks for the jump theory.
The CDA succession
Whichever theory is right, once again the CDA has a serious succession problem. If the CDA does not become the largest party or cannot form a government, Balkenende is toast. But who will succeed him? Not Eurlings, that's for sure.
Expect vicious rounds of infighting, some of which will actually leak out and make the newspapers.
PvdA — Bos leaves politics
Finally, this morning PvdA party leader Wouter Bos announced that he'll be leaving politics, too. He, too, pointed to his family, especially his children.There is no question here: this is a jump.
Nobody had any reason to push out a party leader that was doing extremely well both internally and in the polls, and who had gained fresh laurels by blowing up the Balkenende IV government on a real issue and with impeccable timing, all the while tainting both Balkenende and his then-apparent successor Verhagen.
Bos immediately announced that as far as he was concerned, Amsterdam mayor Job Cohen would succeed him as party leader. Now it is clear that he's been talking to Cohen; otherwise Bos would not make such statements.
Besides, for years and years Cohen has been tipped as potential successor to Bos. When in the 2003 elections Bos toyed with the idea of staying in parliament when the PvdA would join a coalition, he stated Cohen would be the best choice for prime minister. Something similar happened in 2006.
Cohen will give a press conference at 15:00, and I expect him to accept the party leadership. The party formally has to vote him in, but I don't think there will be problems along those lines. The PvdA is doing well, and nobody wants to break that lucky spell by a CDA-like succession infight.
Update: Cohen accepts party leadership and resigns as mayor of Amsterdam.
Comparison
Concluding, it's interesting to compare the successions in the PvdA and CDA. In the PvdA things go orderly and according to well-establihed and well-known plans, while in the CDA chaos reigns and nobody has the faintest idea what's going to happen next.
This is a fairly common pattern. The PvdA has never had a true leadership struggle out in the open since its founding in 1946. No doubt there will have been vicious internal fights, but they never leaked out. Bos was elected by the party members in a 2002 internal election, but all his predecessors back to prime minister Drees (1948-1958) were appointed by the party leadership without much formal discussion, after which the party members confirmed the choice.
The CDA, on the other hand, has had only one proper leadership change, and that was back in 1982 when Lubbers succeeded Van Agt. Since that time, each change has been a major struggle that left the party prostrate for many months. The party was fortunate that the last change, from De Hoop Scheffer to Balkenende, took place many months before the elections so that Balkenende had the time to grow into his role.
In other words, we'll get another round of CDA infighting that will keep the country amused for a while. If the CDA is lucky it will break out only after the elections, not before.
Meanwhile the PvdA, with solid, sensible Cohen at the helm, will profit hugely.
Interesting times ahead.
<— Party profile — GL | Polls, polls, polls — Cohen edition —>
This is the political blog of Peter-Paul Koch, mobile platform strategist, consultant, and trainer, in Amsterdam. It's a hobby blog where he follows Dutch politics for the benefit of those twelve foreigners that are interested in such matters, as well as his Dutch readers.
Archives: