Opera's problems on mobile
In the mobile browser space all the advanced browsers are based on WebKit. That's fine — WebKit is an excellent rendering engine — but if all browsers were based on WebKit I would start to worry about a monoculture. At least some browsers should be based on other rendering engines, as far as I'm concerned.
The only serious mobile candidate for "other rendering engine" is Opera. But I'm starting to wonder whether it can keep up with the WebKit browsers. With the recent release of Samsung Dolfin Opera Mobile has firmly dropped from third-best to fourth-best mobile browser on my list.
The problem is not that Opera isn't innovating. It is. But I'm starting to wonder about the direction that innovation is taking.
Witness the recent release of Opera Mobile 10.1 beta for Symbian (on my 40th birthday; thanks, guys). I went through the press release, which highlights the following changes:
Geolocation is now supported (although it doesn't give the coordinates in my test page). That's cool; it's definitely something that's extremely important on mobile.
Vega graphics library and Carakan JavaScript engine. That's fun to have, but I'm not sure if it's the most important step Opera could have taken right now. I'll get back to this.
Various improvements to the user interface.
And that's it, according to the press release. (border-radius is supported, maybe some other stuff too, and there will be some bug fixes here and there, but I haven't yet studied it sufficiently to give you a full list.)
Relative importance
Nowadays all desktop browsers are innovating like mad in their JavaScript engines. For about a year and a half or so, significant improvements in JavaScript speed have been the Holy Grail of browser making, and every new release of every browser now routinely claims to be the fastest browser available.
(So routine has this claim become that I do not believe any of them any more. Besides, as far as I can tell they're all testing JavaScript Core speed, while the biggest bottleneck is the speed with which DOM changes are made.)
Now on desktop this is a very important development. On mobile it's also important, but I feel there are several other topics that are even more important than JavaScript speed, and that Opera is ignoring these topics.
Point is, a super-fast JavaScript engine is relatively worthless if you can't properly set up a JavaScript-heavy interface. And the very first requirement for a JavaScript-heavy interface is that you always know exactly what the user is doing, so that you can react to his actions naturally and great UX is born.
It's in the latter part of that equation that Opera Mobile has serious problems. I feel that, while innovating in JavaScript engines, Opera is forgetting basic mobile functionality without which a fast JavaScript engine is pointless.
Touch and viewport
There's a reason I started my foray into mobile browsing by studying the touch events and the viewport dimensions. These two functionalities are absolutely vital to building compelling mobile interfaces.
The touch events allow us to follow exactly what the user is doing to the touchscreen. Without these events you can only detect whether the user clicks somewhere. That is enough for some interfaces, but others will definitely want to react to more subtle actions from the user.
The viewport dimensions are important for knowing how much of your site the user is currently seeing on his screen. An example will clarify why this is important.
I'm currently working on a little side project that involves writing the perfect JavaScript touch-scroll interface. This presupposes the touch events: without them it's absolutely impossible to create a compelling UX.
However, I want several scrollable areas on the same page, and with that comes the problem of deciding when to allow a user to scroll. If the user has zoomed in and sees a little bit of one scrollable area on the edge of his screen, it makes sense not to scroll that area when he touches it, because it might confuse him. Instead, we should wait until the scrollable area covers most of the screen before allowing a scroll action. My prototype with this behaviour works pretty intuitively.
However, in order to know whether the scrollable area is on the screen I must be able to read out the dimensions of the visual viewport. I need to know which part of the page the user is currently viewing, compare it to the scrollable area, check their coordinates, and decide whether the user is allowed to scroll. That's something that few browsers support right now.
Android and Samsung support the touch events, but not the visual viewport dimensions. Symbian, BlackBerry and IE support the visual viewport dimensions, but not the touch events. All other browsers, including Opera Mobile, support neither. So this script only works on the iPhone, which is the single browser to support both.
So this interface, which I feel is an example of a mobile-specific UX, will not work on Opera Mobile, regardless of the speed of its JavaScript engine. That's what I mean when I say that I'm wondering about Opera's direction of innovation.
Opera Mobile simply must support the touch events and the viewport dimensions.
Zooming
But Opera Mobile has an even larger problem, and that is zooming. Basically it has the worst zooming functionality of any mobile browser I tested. It seems Opera ignored the emerging standard for touch-based zooming, and instead created its own system. That's fine, as long as the system works. But it doesn't.
So what exactly is wrong with Opera's zooming? Basically everything.
Two levels
Opera has only two zooming levels: in and out. Initially you see the entire page, just as on all other mobile browsers. When you zoom in, however, you go to one single pre-defined zooming level, and once you've arrived there your only option is to zoom out again.
This behaviour is not unique to Opera Mobile. Many other second-tier mobile browsers, such as Symbian WebKit on touchscreen Nokias, or IE, have only two zoom levels.
But there are two other characteristics that make the Opera zooming experience uniquely lousy.
Pre-emptive narrowing of text
Opera kind of pre-emptively narrows your text into columns that fit snugly in the screen when you zoom in. Although that's excellent behaviour to display when the user actually zooms in (as Android does), doing this beforehand makes no sense and has the ability to destroy your page's graphic design.
Here's my compatibility master page as it should display on mobile (Dolfin on Samsung Wave). Note that the text in the table stretches all the way from left to right, as it should: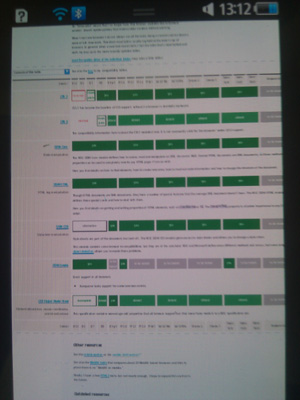 And here is the same page on Opera Mobile 10.10 (Nokia N97). Here the text in the table is narrowed to the width Opera is going to take later on, when you zoom in: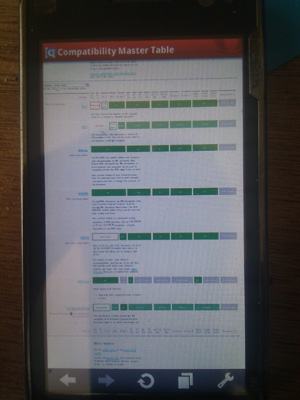 In this particular case I don't mind much, but this feature has the ability to completely destroy a well-designed page. As far as I know you can't do anything against this effect and will have to accept the damage it does to your page.
Single tap
But by far the worst feature of Opera's zoom is the user interaction. On touchscreens an industry standard is emerging for zooming. You either pinch-zoom or you double-tap. Some browsers don't support pinch-zoom, but the double-tap works pretty well, too.
However, Opera in its wisdom uses not a double-tap but a single-tap interface. Tap once when zoomed out and you will zoom in on roughly the area you tapped on.
This is terrible. In order to understand why, take a look at my Touch test page. It's fully zoomed-out: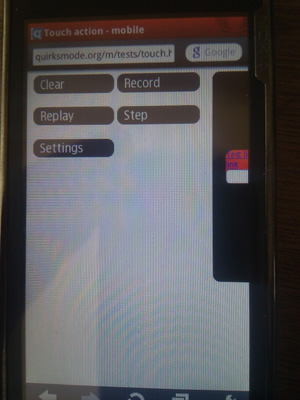 This is how I designed the page: I want it to be usable even fully zoomed-out. Thus I can load the page, hit Record, and record an event sequence of my choice.
But what happens in Opera Mobile when I hit Record with a single tap in order to start recording? It. Bloody. Zooms. In! That makes my test page much harder to use.
To be fair, Opera Mobile 10.10 does not zoom at all in pages that have a <meta viewport>, as my test page has. That solves this particular issue, but I feel it's still a stop-gap solution. All other browsers do allow the user to zoom in on a <meta viewport>-enhanced page. (Some even allow you to zoom out.)
Opera's problems
Concluding, Opera Mobile has a serious zoom problem that must be addressed in addition to the touch event and viewport dimension problem.
I feel that addressing these issues is more important than yet another faster JavaScript engine or yet another UX upgrade. Besides, as long as zoom remains lousy the UX can be upgraded only so much. Zooming is a fundamental part of the mobile UX; without it many other innovations just don't make sense.
So in order to remain relevant on the highest tier of mobile browsing, Opera will have to concentrate on three things:
Fix zooming: double-tap interaction, many more zoom levels, no pre-emptive narrowing of text columns.
Support the touch events.
Allow us to read out the viewport dimensions.
I more-or-less expect the busy engineers in Oslo to be working on these problems, and I assume that the next major Opera Mobile upgrade will bring significant improvements here.
If it doesn't, I'm afraid Opera is out of the race for the top spot. That is not necessarily bad: it could always forget about the top tier and instead concentrate on the low-end smartphone market. Right now Opera Mobile is available only for Symbian and Windows Mobile, and on those operating systems it's the best available browser.
Without a serious upgrade of mobile-specific functionality ruling this second tier is the best Opera can hope for. The top tier will be WebKit-only.
Comments are closed.