BlackBerry user satisfaction, media queries and asset downloading, and turning the cloud inside out
Three news items that have nothing to do with each other, except they caught my eye yesterday and today, and might be of interest to others, too.
BlackBerry user satisfaction
Recently Michael Mace wrote a thought-provoking post about RIM's real problems.
RIM is at risk because its natural market is saturating and many of its customers are considering a switch to other platforms. The company may be able to bumble along in this situation for years before the problem comes to a head, but once a migration away from BlackBerry starts it would be almost impossible to stop.
He comes to this conclusion by studying RIM's number of new subscribers per unit sold, and gross margin per unit, both of which are dropping. Read his article for the entire argument.
Tomi Ahonen replied, saying that BlackBerry is big among the youth market, and in a few countries such as Venezuela and Indonesia. Although I generally find Tomi's reasoning compelling, in this particular case I feel that his reply is a non-sequitur. Sure, he's right, but so is Michael Mace, and the two things could take place simultaneously. Apparently RIM is sliding down-market, which is not necessarily bad, but does mean it might have to change its basic company economics. Since I know nothing of economics I'll leave it at that.
On one point, however, Tomi is right and Michael is wrong. Michael quoted Nielsen research that shows which percentage of current US users of a certain OS would choose that OS again for their next phone: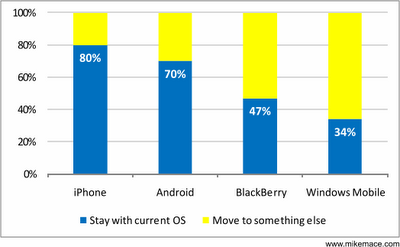 (Curiously, I cannot find this particular datum in the post Michael linked to.)
Seems terrible for RIM, right? 53% of US BlackBerry users wants a different platform. Mayhem and corporate death will ensue.
Except, as Tomi points out, it won't. Roughly one-half of the US BlackBerries are not private phones but corporate ones that employees get whether they like it or not. In that light a 47% satisfaction score is not so bad. Suppose all corporate users want to get rid of their BlackBerry, then the overwhelming majority of private users would stick with the platform. And the corporate users have no choice: their IT department will decree that their next phone will also be a BlackBerry.
So this customer satisfaction measurement means exactly nothing, and RIM is in less trouble than some people think.
Media queries and asset downloading
Greg Rewis did some tests on media queries and not downloading assets.
In my article on media queries and JavaScript, I already pointed out that using display: none to hide elements that should not be shown on mobile is not enough: the element may be hidden, but its content, such as images or Flash movies, might still be downloaded. Over a mobile connection. Not a good idea.
Greg set out to test whether that is actually the case. Sadly, it is. He found:
CSS background images are not downloaded if they're in a media query that isn't applied. If you define a generic background images outside the media query, and then override it in the media query, WebKit-based browsers download both the generic one and the override, while Firefox and Opera only download the override. So define all your background images inside media queries, and you're safe.
All browsers download all linked style sheets, even if the <link> tag contains a media query and the style sheet is never used.
Assets such as images in elements with display: none are downloaded by Safari and Chrome, but not by Opera and Firefox.
Thus WebKit is behind Gecko and Presto in this particular respect. The mobile WebKits Greg tested behaved exactly the same as their desktop counterparts.
Turning the cloud inside out
Stephen Hay has an interesting take on the Delicious disaster.
What if we flipped this all on its head? What if we hosted our own data, and provided APIs for all these webapps so that they can use our data? I can imagine that to be a substantially cool use of RDFa/Microformats and whatever metadata/semantic web technologies you prefer. Isn't one of the points of the semantic web to make decentralized information meaningful, retrievable and mixable?
Sounds interesting, although the average web user can definitely not write his own APIs. Maybe a web service that provides APIs for you that provides other web services with data?
Comments are closed.