Tested phones: Nokia N97, Samsung M1, HTC Touch Pro (Windows Mobile), SonyEricsson W960i, Nokia E71, BlackBerry 9500, HTC Pioneer (Android), LG M900, Nokia N900, iPhone.

">
A basic usability test on ten phones
B. is an old friend of mine who owns an old Nokia. And when I say old, I mean really old. It was released somewhere in 2000 or so (the Nokia, not the friendship). It's not a smartphone, to put it mildly, and B. does not use the mobile Web.
Yet.
Pretty soon, however, B. is going to spend a few months in the outlying parts of Indonesia, and during that time he has to be able to access his business bank account. He was wondering if a modern mobile phone would fit this use case, and, if so, which one.
When he told me all that I whipped out my iPhone. "Something like this, you mean?" He was suitably impressed, and when I told him I regularly have six to twelve phones lying around on my desk he practically begged for an opportunity to come by and try them all in order decide what kind of phone he wants.
That was of course fine by me. User testing is never to be despised, and since B. is not technical and has no experience with touchscreens to speak of, he is the perfect test subject.
Last week we held our session, and this entry is the report.
Tested phones: Nokia N97, Samsung M1, HTC Touch Pro (Windows Mobile), SonyEricsson W960i, Nokia E71, BlackBerry 9500, HTC Pioneer (Android), LG M900, Nokia N900, iPhone.
Set-up
B. is not technically inclined, to put it mildly. His knowledge of the Web is best summarised by this short discussion that ensued when I gave him the HTC Windows Mobile phone:
Me

[gives Windows Mobile phone with home screen activated]

B.

Ah, Internet Explorer. [Clicks on it while ignoring the Opera logo right next to it]

Me

You know what that is?

B.

Sure, it's Microsoft's search thingy, right?

Me

Errr ... right ... [pours stiff drink]
On the other hand, B. has an excellent idea of what he needs. He needs access to his bank account and he has to be able to take common actions.
B. knows his workflow: go to Google, search for the entry page to his banking site, go there, log in, and do stuff. I warned him he'd better skip the first step in Indonesia. The network is bound to be slow, and skipping one page load is definitely a good idea. I also revealed the existence of bookmarks.
B.'s target is Mijn ING, which is definitely not the most advanced Dutch banking site. Most of the problems we encountered were in the later, password-protected pages, so you can't view them in your browser unless you also bank with ING. (I do, so I might take a shot at researching a few problems.)
We tested ten phones, and in all cases I made sure the phone had a connection and was on the home screen. After that I handed it over.
The original plan was not to offer B. any further help, but pretty soon it turned out I had to teach him how to zoom. Not only was he completely unacquainted with any kind of zooming, but the eight phones that have zooming capability use five different mechanisms (double-tap, pinch, Android, BlackBerry, and Maemo), and leaving B. to discover them by himself would have taken far too much time.
I also explained other interface elements I thought might help him. I'm not sure if this is good methodology, but it cut down testing time considerably.
The phones
As to the actual phones we tested, that was mostly a matter of coincidence. I'd taken a lot of touchscreens with me from Düsseldorf because I'm doing some complicated touch research for Vodafone. In addition, all four phones I received as a gift from interested parties are touchscreens, too.
I'd have loved to include the Palm Pre in this test, but at the time of writing I have not yet figured out how to skip the sign-up screen on my locked British one.
I also left out the Samsung F700 because I exclusively use it to torture UX experts. That brought the total number of phones down to ten.
Nine out of these ten were touchscreens (with the Nokia E71 as the exception). In retrospect it would have been better if we'd had one or two more non-touchscreens to test.
I decided on the testing order in advance. On the one hand I wanted to bunch up the phones I thought good toward the end of the session, because I wanted to see if they're really that much better than all the others in the opinion of an outsider without any experience.
On the other hand I didn't want to start with the very worst phones because that would only depress B. So I started with the most medium phone I could think of, the N97.
As a practical matter, I had to alternate wifi-capable phones with SIM-only phones in order to have time to insert the SIM card and start up the next SIM-only phone while B. was working with a wifi-capable phone. The BlackBerry, especially, needs a lot of startup time.
Finally, I decided to use the default browser on every phone. I do not believe that many non-technical users will download another browser when their phone contains one that appears to be working. Besides, I'd have to explain the "other browsers" concept to B., and I decided that that would take too much time.
The testing
I handed B. the phones in the order they're treated below and recorded his impressions.
Nokia N97
OS

Symbian S60v5

Browser

S60 WebKit

Keyboard

hardware

Wifi

yes

Zooming

double-tap

Test result

mostly succeeded

Disclosure

phone on loan from Vodafone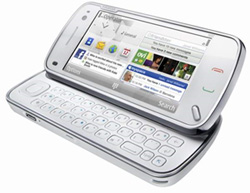 Starting up an S60 WebKit when you want to use a wifi connection is a total disaster, so I did that for B., but otherwise I left him to his own devices.
Since this was the very first phone in the test, neither B. nor I had any expectations. I was mainly curious to see how he worked with the phone. In general this first encounter went rather well, especially once B. discovered the four-way navigation pad on the left.
In fact, B. took only a few minutes to figure out the single most serious problem with touchscreen interfaces. He ran into trouble when he wanted to click on something but the browser scrolled instead, or vice versa. He thought it was just him being dumb, but I could disabuse him of that notion.
The touch event is way overloaded. Touching the screen may start a click, a scroll, or a zoom action, and the less able a browser is to distinguish between these actions, the lousier the interface appears to be. Handling these distinctions well is what separates the iPhone from all other phones.
Because the links on the banking site are pretty bunched up B. had to use his nail to click on links. The discovery of the stylus two phones later helped measurably here. I forgot to explain zooming to him in this case, but the S60 WebKit zoom is lousy, anyway.
It turns out that the S60 WebKit sometimes crashes on one particular banking page. I was not able to quickly figure out whether it was a problem with the browser or a problem with the site.
Samsung M1
OS

Linux

Browser

Opera Mobile

Keyboard

software

Wifi

no

Zooming

double-tap

Test result

succeeded

Disclosure

phone on loan from Vodafone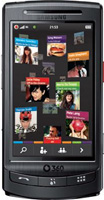 I handed B. this phone in natural state, and not with the home screen activated. He figured out the slider by himself, but then he saw the Vodafone 360 screen (see screenshot), and his first reaction was "what a confusing interface." Vodafone 360 can indeed be daunting if you hardly know what a social network is. B. is clearly not part of the M1's target audience.
On this phone B. encountered his first software keyboard, and he gave it cautiously positive rating: it didn't work as badly as he'd feared. Still, later on he revised this opinion. Especially in portrait mode the keyboard and the individual keys were too narrow.
This phone uses Opera, and this particular Opera has been extended with several interface features: Opera Fingertouch, as well as a zoomer that works by sliding a block from top (zoom out) to bottom (zoom in). This block becomes visible on double-tap.
B. used Fingertouch intuitively and without commenting on it. Not using it is not an option: if Opera doesn't understand which link you want to click, it fires up Fingertouch. So B. had to use it, and that turned out not to be a problem.
As to the zoom, it didn't really work for B. That is not entirely Opera's fault; one of the M1's problems is that the touchscreen may sometimes be a bit unresponsive when you double-tap or drag the zoom block.
All in all this phone was not a success.
HTC Touch Pro
OS

Windows Mobile 6.5

Browser

IE

Keyboard

hardware

Wifi

yes

Zooming

double-tap or menu

Test result

succeeded

Disclosure

phone is a gift from Microsoft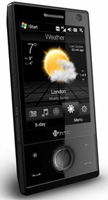 It was when I handed him this phone that B. and I had the short conversation I quoted at the start of this article. He started up IE and surfed to his banking account without many problems. I had to point out where IE hides its menu, but then he started using IE's sliding zoom, which is similar to Opera's, except that this phone's way more responsive.
B. absolutely loved the stylus that comes with this phone, and went back to the M1 and N97 to test whether it also worked there. He kept trying it with all other phones, too, and decided to get one no matter what kind of phone he would eventually buy.
He was also glad he could once again work with a hardware keyboard. So glad, in fact, that he started using the arrow keys on the hardware keyboard in order to scroll the page, just as you would on a desktop computer.
My notes say that these keys don't work, but when I retested it they worked as expected. However, there's a perceptible pause in IE before the scrolling starts. Maybe that's what threw us off track.
My particular Touch Diamond has one extremely annoying bug: when you press the "1" on the hardware keyboard, the phone goes back to the home screen. This is especially funny when your banking user name contains a "1." Fortunately I knew we could use the software keyboard to type the offending character; it's unlikely B. would have figured that out by himself.
As far as I'm concerned the idiot who thought up this "feature" should be taken behind a shed and shot. I asked B. not to consider it when judging the phone.
SonyEricsson W960i
OS

Symbian UIQ

Browser

Opera Mobile

Keyboard

numerical

Wifi

no

Zooming

none

Test result

more or less succeeded

Disclosure

phone on loan from Vodafone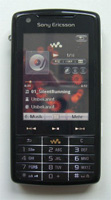 This phone is by far the oldest we tested, and it's easy to see that age does make a difference in the mobile space. Not that it doesn't work, but everything is a bit cranky, and both the OS and the browser (Opera 8.65) are older ones.
This is also the single tested phone with a numerical keyboard. That was no problem; B. has been using them exclusively for years and is way faster with them than I am. He commented favourably on the small menu top-right that shows all characters that reside under a certain key.
On this phone I showed him Opera's mobile view, in which the entire site is displayed in a narrow column that fits the screen. B. clearly liked it. Unfortunately the site didn't: the actual data never showed up in the mobile view.
Still B. did not like this phone. Too clunky and kludgy. The only thing I regret is that I plain forgot to point out the scroll wheel on the side.
Nokia E71
OS

Symbian S60v3

Browser

S60 WebKit

Keyboard

hardware

Wifi

yes

Zooming

none

Test result

failed due to site bug

Disclosure

phone on loan from Vodafone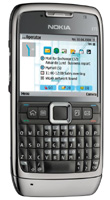 Now we come to the single phone B. already knew because his girlfriend owns it. As a result B. is less likely to buy it, although he readily admitted this had nothing to do with its technical specs.
Again I opened the browser for him due to Symbian's serious mishandling of the connection between wifi and browser.
Now B. had to type in the URL to start. He touched the screen repeatedly, and I had to remind him that this is the single non-touchscreen phone in the entire test. He asked me how to enter a URL, and I had to take over the phone and use it in order to remember that you just have to start typing and the browser relegates your keypresses to the location bar.
B. absolutely loved the four-way navigation and S60's pseudo-cursor. It made the interface much clearer to him, and he couldn't possibly go wrong when selecting a link to click.
When we came to the actual target page, though, it turned out not to work. After the normal header the page said "fastinnerhtml" and then nothing.
Now in itself this is a true statement — I proved as much back when nobody had ever heard of performance testing. Still, it's an odd message to show on your site. I haven't yet decided whether the site's programmer is a total idiot or has a wonderful sense of humor.
If the site had actually worked the E71 would have scored very well in B.'s opinion.
BlackBerry 9500
OS

RIM

Browser

BlackBerry

Keyboard

software

Wifi

no

Zooming

click (in) or hardware Back button (out)

Test result

failed due to browser bug

Disclosure

phone is a gift from RIM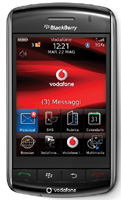 Back to touchscreens. The BlackBerry came next, and pretty soon B. ran into severe interface problems when trying to click on options in the browser menu.
Now in theory the BlackBerry interface is pretty good. You have to actually depress the screen in order to activate something, but as soon as your finger touches an option it lights up in blue.
The problem is that your finger will probably move a few pixels between touching the screen and clicking on it, and it happens too often that the correct option will highlight, but you'll click on the wrong one because of this finger sliding. This is a generic BlackBerry problem that holds back an otherwise well thought-out system.
Then, as I knew he would, B. accidentally pressed the hardware button on the left side of the phone. The screen went white, and after a few seconds a woman's voice said "Sagen Sie einen Befehl!" (It's a German BlackBerry.) I taught B. the proper response ("Halts Maul") and warned him not to press the button again.
Login was succesful, but then the site sent the BlackBerry browser a lot of JavaScript, and that's something this browser can't handle. It just gave up after a while, as it's wont to do, and the site did not work.
Good thing BlackBerry is going to use a WebKit-based browser in the future.
HTC Pioneer
OS

Android 1.5

Browser

Android WebKit

Keyboard

software

Wifi

yes

Zooming

move finger down and use special menu

Test result

succeeded

Disclosure

phone on loan from Vodafone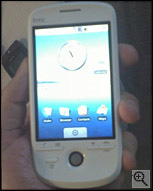 Then we came to the Android, and I had high hopes of this phone. Until now B. had only used touchscreen phones that I knew were flawed in some way or another. I was curious how he'd react to a good one. He did not disappoint. His first remark was: "Oh, this is a lot better than the previous ones!"
Still, the more B. used it the less enthousiastic he became. He deplored the lack of a hardware keyboard and again complained that it was so hard to select a link to click. When I pointed out the trackball he got the idea immediately but thought it was far too sensitive. He had to try very hard to use it right. I searched for a trackball setting, but there doesn't seem to be any.
Filling out the login form turned out to be very hard, especially because B. held the phone in landscape orientation. In that case, one form field and the software keyboard combine to fill the entire screen, and it's not at all clear how to proceed to the next field.
It turned out we had to press the Enter key to exit a text input. Later on I tried a textarea in landscape mode, and pressing the Enter key (correctly) added a line break, but didn't exit the textarea. It turns out you have to rotate the phone back to portrait mode. Not ideal.
B. was imperfectly satisfied with this Android. It had given him an idea of how a proper touchscreen should work, but had let him down when it came to the details, even though he reached the banking site and could do what he wanted to do.
LG KM900
OS

LG proprietary

Browser

Obigo

Keyboard

software

Wifi

no yes

Zooming

pinch

Test result

failed due to Google Web Toolkit

Disclosure

phone on loan from Vodafone
When testing the LG phone B. was very happy with the slight vibration that accompanies every single keypress, but less so with the total lack of feedback that clicking on a link yields. Did I press the right one? Is something happening? The LG/Obigo interface doesn't give a clue.
Still, we made progress. Until Google pulled its evil trick.
As usual, B. went to Google first in order to search for the entry link to his site. It turns out that Google in its infinite wisdom sends this Obigo browser through GWT hell, which causes the banking site to be completely unusable.
I considered delving deeper into this problem, but first asked B. if he thought this phone was a serious contender. When he said No we decided to move on to the next one.
Still, the fact that Google messes with web content is unacceptable. And GWT is an pestilence that should be eradicated from the world. Expect to hear more of this.
Late update: Four days after publishing this article I found out that this phone does support wifi.
Nokia N900
OS

Linux

Browser

MicroB (Gecko-based)

Keyboard

hardware

Wifi

yes

Zooming

move finger in circles or use hardware button

Test result

succeeded

Disclosure

phone is a gift from Nokia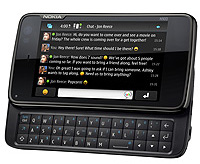 Then came the Nokia N900, the first Maemo Linux-based phone, which I have high hopes of. I had to show B. the hardware zoom button at the top of the device, but once he got that the phone worked well.
So well, in fact, that while I put away the LG phone, poured some more drinks, and made a few notes, B. had already found, opened and used his banking site.
This was the first phone that he didn't need help with at all, even for a minor issue. It just worked. And that's rare.
B. commented again that it's so hard on some phones to distinguish click actions from scroll actions from zoom actions, but that the hardware zoom button solved most of that problem.
When B. discovered that the HTC Touch Diamond's pen also works with the Maemo, he became even more happy.
iPhone
OS

iPhone

Browser

Safari WebKit

Keyboard

software

Wifi

yes

Zooming

pinch

Test result

succeeded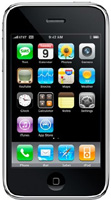 Finally, the iPhone. I'd deliberately saved it for last, and was not disappointed. I only had to tell him the browser is called Safari, and off he was, logging in and working with his banking site. "Oh," B. said, "so this is how a touchscreen is supposed to work."
Finding and using the site took as little time as it had on the Maemo, and after B. was done he again tried a click, a scroll, and a zoom action, and commented that this phone did understand what he was trying to do instead of mostly guessing wrong.
He concluded that he understood the iPhone hype fully now; all the praise was well deserved.
The verdict
Finally I asked B. to rank the ten phones from good to bad. This ranking mostly confirmed the picture I had formed of the phone market, except that the iPhone and especially the Android ended up lower on the list than I expected.
Nokia N900 (Maemo)
iPhone
Nokia N97
HTC Windows Mobile
HTC Android
Nokia E71
LG KM900
BlackBerry 9500
Samsung M1
SonyEricsson W960i
B.'s most severe problem was the lack of distinction some phones make between a click, zoom, and scroll action, and this fits seamlessly into the larger picture of the market as a whole. Of the pure touchscreen devices, only the iPhone has truly solved this problem. The others are in various stages of catching up with Apple.
B. also had trouble with clicking on the right links because they're too bunched up in his banking site. The most obvious solution to that problem is zooming, and therefore his top two consisted of the phones that allow for graceful, easy zooming.
More in general, B. is a hardware man. He consistently put the phones with better hardware controls higher on his list, with the iPhone and the E71 as the only exceptions. He has also decided to buy a stylus no matter which phone he'll eventually get.
In the end, after much deliberation, B. put the Nokia N900 in the top slot above the iPhone.
He was extremely careful to note that he did so only because he felt that the hardware keyboard and zoom button were most conductive to his personal goal of accessing and working with his online banking site. He could imagine that the iPhone would be better suited for other purposes.
This confirms my hunch that Nokia is on the right track with the Maemo platform. The next Maemo phone, I think, will be something to watch.
To my surprise he ranked Windows Mobile above Android. Although he liked Android, it did not entirely deliver on its promises as far as B. was concerned. Windows Mobile promised less, but delivered.
Curiously, the six best phones in his opinion were also the wifi-capable phones, while the four SIM-only phones made up the bottom of the list. Apparently support for wifi is a measure of phone quality.
All in all this was a very useful session, both for B. and for me. Maybe I'll repeat this later on, with another friend (and probably a slightly different line-up of phones).
Update: A week after this article appeared, B. told me he'd bought a Nokia N72. His reasoning was that no touchscreen save for the iPhone was good enough, and het got the N72 for free (with subscription, obviously). So no touchscreen for B.
Later update: It turns out B. bought an E72, not an N72. I installed Opera Mini on it just to be on the safe side.
Comments are closed.