here. Fanatical followers will recognise most of the topics I discussed from earlier slide shows, but the last one, about the changes to the market share of IE6, 7, and 8, is new.

Basically, IE6 will continue to exist when IE7 has all but disappeared, and, contrary to what you might expect, this situation will create exciting opportunities for Microsoft's competitors.

Besides, last week the news came that Microsoft is going to voluntarily de-bundle IE from all Windows 7 machines that will be sold in Europe, and I continue to have my doubts about that affair.

So it's time for a special State of the Browsers IE edition.

">
State of the Browsers — IE edition
Recently I held a presentation at a local Microsoft conference in the Netherlands. Slides are here. Fanatical followers will recognise most of the topics I discussed from earlier slide shows, but the last one, about the changes to the market share of IE6, 7, and 8, is new.
Basically, IE6 will continue to exist when IE7 has all but disappeared, and, contrary to what you might expect, this situation will create exciting opportunities for Microsoft's competitors.
Besides, last week the news came that Microsoft is going to voluntarily de-bundle IE from all Windows 7 machines that will be sold in Europe, and I continue to have my doubts about that affair.
So it's time for a special State of the Browsers IE edition.
Market share
As we all know IE8 is out, and whatever your opinion, no one will doubt that it's a better browser than IE7, and that a quick growth of the IE8 market share will serve web developers well.
Still, the real problem for web developers is IE6. That's the browser we absolutely have to get rid of.
IE8 is picking up quite a bit of market share right now; but as far as I can see that share mostly comes from IE7, and not from IE6. The following graph shows where I think the market shares of the various IEs are heading: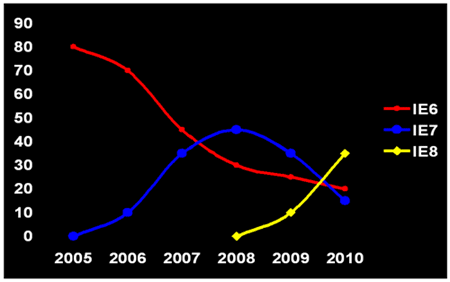 Although IE8 will become the largest Microsoft browser, I expect IE6 to retain about 20 to 25% of the market even by the end of 2010 (OK, maybe 15%, but still considerable), while IE7 will drop below IE6 sometime (early?) next year.
Now why do I expect IE6 to stick around while IE7 goes down? The answer is simple: Intranets.
Intranets
In the era of IE6 dominance (2000-2006), countless companies created countless Intranet application for time registration, sales support, contact information, you name it. All these applications are absolutely vital for the daily datastream in these companies.
Some companies deliberately opted for Microsoft technology and a Microsoft-only Intranet, while others were lazy and didn't bother to make these apps compatible with other browsers, even though they did not particularly use Microsoft products.
The net result is that there are countless vital apps around the world that only work with IE6. Not with another browser — not even IE7. Therefore the companies did not upgrade their browser. (Incidentally, this was the most important reason for Microsoft to introduce the versioning switch — the IE team wanted to prevent a repeat performance of this problem.)
Sure, some companies will revise these apps to work with other browsers, but many won't, partly because it costs too much money in this time of recession, partly because it's so hard to find good front-end engineers (which good front-ender wants to work on Intranet applications for several years?), and partly because the old apps still work, don't they?
So many old apps won't change, and many office workers will continue to be condemned to IE6.
Office vs. home
At work, that is. It's quite likely that on their private computer at home they run another browser — IE7 or 8, Firefox, or maybe one of the smaller ones.
What generally gets too little attention is the difference between browser stats during office hours and browser stats outside office hours. More than one web developer told me in the past year that there is quite a bit of difference between the two.
Basically, most of the IE6 market share comes from office-hour surfing, while it drops significantly in the after-hours period. This is something to keep an eye on when a client comes with his site stats. If you can, split out the office hours and after-hours stats, and take a look at the pattern that emerges.
I wouldn't be surprised if business-to-business clients will continue to demand IE6 compatibility, while business-to-consumer clients will start to drop this demand — especially when we put a realistic price tag on IE6. It all depends on when users visit their site.
Update: reader S. Anand found exactly the predicted result when he checked his logfiles
The price tag
I think that we web developers will start to get fed up with IE6 to such a degree that we are actually going to charge more money when this browser comes into play.
"Want a site that works perfectly in IE6? Fine, but it'll cost you about 20 to 30% extra."
In fact, I hope web developers will start to charge this extra amount reasonably soon. Some clients won't be willing to pay, which will save you a lot of heartache (and hair care products), some clients will actually pay you for your extra-special IE6 trouble, and yes, you might lose some business as a result. Therefore this is a decision everybody should take on their own.
Despite understandable hesitation, in the long run charging extra money for IE6 compatibility is inevitable. The result will be that less and less sites will work perfectly in IE6.
Two corporate browsers
The victims will be the office workers during office hours. They'll find that they are less and less able to view perfect sites on the Internet — even though their Intranet applications will still work fine.
The obvious solution to this problem will be to install another browser for real surfing on the corporate network. Whichever browser the company will eventually select, one thing is certain: it will not be IE.
After all, it's officially impossible to install several IE versions next to each other, and I doubt whether cautious and conservative corporate sysadmins will go with one of the unofficial ways.
In fact, a source within a large company told me they are seriously considering installing Opera as the real browser on their internal network, and use IE6 only for accessing their internal apps. I have no idea whether that will actually happen in this particular company, but it shows that the basic scenario is viable.
Thus IE6 will more and more become an internal system browser, while office workers use a non-IE browser to surf the real Internet. This process will work to the detriment of IE's overall market share relative to the other browsers.
Companies will be forced to choose one non-IE browser. Which one? Probably the one with the best marketing machine.
This opens up perspectives for the other browser vendors — unless they're locked up in battles that are purported to serve and protect web developers and end users, but will certainly harm the latter, while the former will not benefit much.
Opera vs. Microsoft, round 3
Microsoft has voluntarily decided to unbundle IE from all Windows 7 computers that will be sold in Europe. It leaves the choice and installation of the browser to the hardware vendors or the consumers.
This is supposed to be a great victory for web standards. Hurray, hurray.
Frankly, I'm getting downright frightened of the whole affair. I wish the European Commission, Opera, and their allies would just stop it. It's opening the path for an endless series of partisan complaints.
Sure, it was to Microsoft's advantage that IE was automatically installed on any Windows computer. Sure, it has inflated IE's market share to 90%, because the other browser vendors didn't have comparable distribution channels.
Still, I wonder if anybody would have complained if IE had been 100% standards compliant. It's the combination of distribution advantage with the eternal IE6 problems that made people get sick of Microsoft.
Besides, I have my doubts about the fairness of the process. I have not yet heard a similar complaint against Apple for tying Safari to its operating system. Or against the KDE guys for tying Konqueror to theirs, for that matter.
Canned worms, anyone?
In any case, Microsoft is not awaiting the European Commission's formal ruling and has chosen the Zero option. A new Windows computer will contain zero browsers — unless the hardware vendor installs a browser of its choice.
There are several things wrong with this solution:
Suppose a consumer buys a new computer and it doesn't have any browser installed on it. How is he going to get one?
Probable answer: some kind of temporary download program that pops up the very first time he uses his computer and gives him the choice of no less than five browsers. Problem is, the consumer doesn't want this choice because he has no idea what's going on.
Besides, if this solution is implemented we can expect a stream of complaints from the truly tiny browsers nobody has ever heard of. In all fairness, we should include them, too. So the user will get the choice of eight to ten (twelve? fourteen?) browsers — a choice he doesn't want and has no idea what to do with.
Or will somebody have to decide which browsers to allow in this program? Who? How long will it take before this person or institution is accused of unfairness because he forgot one browser?
Now suppose the hardware vendor installs one browser on the computer. Even worse, suppose this browser is actually IE. Are we going to get a crusade against hardware vendors, too, for daring to install the wrong browser?
Suppose the world caves in to the mighty pressure of teh Interwebz and forsakes IE forever. Now hardware vendors will install another browser. Let's say they mostly opt for Firefox — a reasonable choice in today's market. Will we get a re-run of the entire thing, but now aimed against those evil hardware vendors who're giving Firefox an unfair advantage? If so, when will it stop? If not, where's the fairness in the process?
We're opening up a can of worms that should remain firmly closed.
Precedent
Finally, with this ruling we're setting a precedent that I feel should not be set.
Opera Mobile used as default browser for all HTC phones? Unfair advantage! Google WebKit default for Android? Unfair advantage! And let's not talk about the iPhone and Apple's manifestly hideous unfair advantage there.
If we take this ruling to it utmost conclusion a mobile phone vendor may not install a default browser on its system, but will have to allow consumers free choice, too. So the innocent end user who just wants to surf with his brand new mobile phone will first have to pick one of approximately two dozen browsers.
Where will it stop?
I feel we should allow Microsoft to continue to bundle IE with Windows. Not because it's good and proper what Microsoft has been doing, but because the alternatives are far worse.
As I showed in the first part of this article, Microsoft's competitors are granted a unique chance to conquer the office market. I feel they should spend their energy on that part of the market instead of setting potentially dangerous precedents that will most likely harm the end-users more than anyone else.
Comments are closed.