Web Authoring Statistics research, in which about a billion HTML documents were parsed for popular class names, used elements and attributes, use of JavaScript and so on.

Sounds fascinating? You bet. There's just one slight problem: the actual data is totally inaccessible.

">
Inaccessible Google Web Authoring Statistics
Quite recently Google published the results of its Web Authoring Statistics research, in which about a billion HTML documents were parsed for popular class names, used elements and attributes, use of JavaScript and so on.
Sounds fascinating? You bet. There's just one slight problem: the actual data is totally inaccessible.
The reason is that Google uses that muppet of Web formats, SVG, for presenting its data, and that it doesn't give a text-only alternative.
Now I am not unendowed with browsers, and I'm always willing to switch to another one if the result is worth it. I tried to view the graphics in Explorer 6 SP 2 Windows XP, Mozilla 1.7.12, Opera 8.5 Windows and Mac, Explorer 5.2 Mac, Safari 1.3.2, and iCab 3.0, and they work in none of them. Some browsers show black boxes (probably objects), but that's all.
Of all my browsers, only the Opera 9.0 beta seems to be able to interpret SVG, but unfortunately the graphics are totally illegible. For instance, here's the graph of the nineteen most used HTML tags. Can you make them out?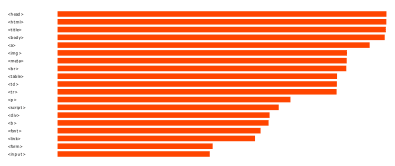 To add insult to injury, the creator of this page has reverted to one of the most hated nonsense messages of the previous Internet hype, a message we all swore to abandon once and forever:
You will need a browser with SVG and CSS support to view the result graphs correctly. We recommend Firefox 1.5.
Requiring everyone to use one browser? Isn't this totally 1999? I mean, why shouldn't we require Netscape 4 while we're at it?
Dear Google Web Authoring Statistics author, we're in 2006 now. You're not supposed to force your visitors to use the browser of your choice. Pages you author must be accessible to all. You shouldn't hide vital information in graphics, and certainly not in a near-totally unsupported format. If your pages absolutely require SVG (which they don't, gifs will serve equally well, and data tables even better), you should repeat the data in accessible text format.
Thank you for this excellent example of building inaccessible websites. It will serve us well in explaining accessibility problems, but unfortunately it will not serve anyone who's interested in getting the results of your research. And that's what your page is supposed to be about.
Comments are closed.