Chapter 7: Becoming a mobile web developer
To the main book page.
Buy it here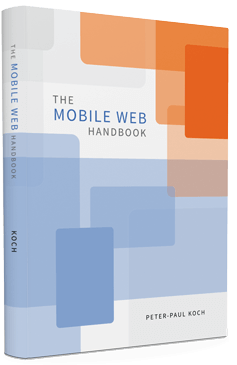 The Mobile Web Handbook by Peter-Paul Koch. Published by Smashing Magazine GmbH.
ISBN 978-3-94454093-1
Author

Peter-Paul Koch

Design and illustrations

Stephen Hay

General editor

Vitaly Friedman

Technical editor

Stephanie Rieger

Copy editor

Owen Gregory

Further editing

Patrick Lauke, Max Firtman, Vasilis van Gemert

Production

Markus Seyfferth
Chapter 7 contains practical tips and tricks for desktop web developers to make the jump to mobile.
Errata
No errata found yet.
Links and additional information